CANADY PLASMA® XL-1000
SMART ELECTROSURGICAL GENERATOR
The future in Plasma Surgery is now
A computer designed by surgeons, nurses & engineers…for the first Smart Plasma Electrosurgical Generator.
Introducing
GIMSS™ OS

– "Graphical Integrated Management Surgical System" Operating System
The first smart OS for an electrosurgical generator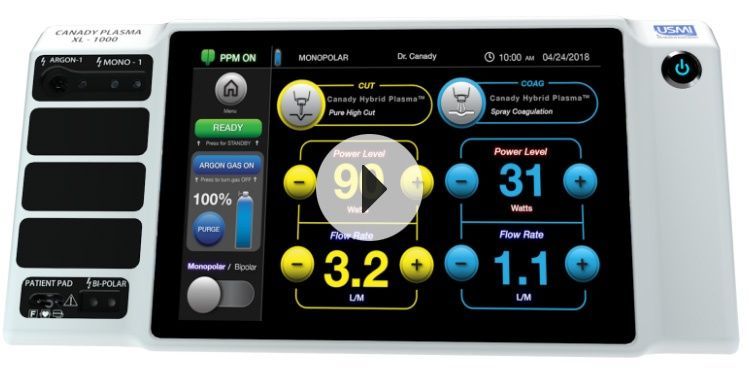 If an electrosurgical generator had a computer today, what components would it include? The invention would include plasma technology, electrosurgical generator, computer, operating system, smart technology, apps, touchscreen, and a keyboard. This is the Canady Plasma® XL 1000 Smart Electrosurgical Generator with GIMSS™ OS.
At the touch of a finger…
FULLY INTEGRATED ADVANCED
SURGICAL ENERGY SYSTEM
Smart Apps
The GIMMS™ OS features 16 Surgical Apps and the ability to create, store and access system pre-sets.
12.1" Surface Display
Our large surface includes a hi-definition touchscreen with a wide-view angle, intuitive menus and large color-coded settings that are easy to see and adjust.
First Integrated Keyboard
Memory Storage Capacity Up To 400 Physician Selective Settings
Intelligent S.M.A.R.T. Integrated Safety Features
CANADY PLASMA® XL-1000 SMART ELECTROSURGICAL GENERATOR
Features Include:
Single Unit Integrating High-Frequency Electrosurgical Energy With Plasma Technology

Canady Hybrid Plasma™
Canady Hybrid Plasma™ Pulse Cut
Argon Plasma Coagulation
Standard Monopolar And Bipolar Functions

High Definition Touchscreen With Wide-View Angle and 12.1" Surface Display
GIMSS™ (Graphical Interface Management Surgical System) Smart Operating System
TISC System (Tissue Impedence Sensitive Control) provides Dynamic Power For All Types Of Tissue
Customized Surgical Apps with Memory Storage Capacity For Up To 1000 Surgeon Preference Profiles
Smart PPM System – Automatically Monitors Contact Resistance Between Patient and Plate
Sentinel Power Surge Protection
Interactive Support System and Online Guided Tutorial
Auto Stop Function
Power Level Adjustment Through Touch Screen
Adjustable Argon Flow between 0-6 liters per minute
Precise Flow Control
Power Activation through Foot Pedal and Scalpels